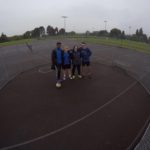 We had an amazing week in Great Yarmouth High School with Nomad; the touring cage football team from Youth for Christ. With 23 lessons engaging with over 550 pupils, Beth H, Beth W, Shaun and Josh also took two of the week's assemblies, talking about Who is the Greatest? In each of the lessons the 25-36 students were split into three groups, one of which took part in some very energetic Cage Football, two against two; each game lasting for two minutes!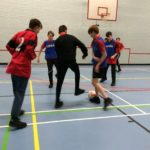 The second group took part in some Coaching with footwork, teamwork and passing skills whilst the third group did some Team Talk, where Beth, Josh or Shaun shared their stories, inviting questions and feedback from the pupils. Two of the team had very relevant testimonies for the kids about adoption, rejection and being bullied in high school so we're praying that there will be opportunities to continue the conversations about Jesus in the near future.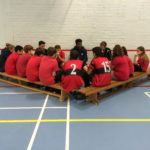 We also had some great conversations with some of the staff including one who was talking about how she had been really let down and discouraged because her church (not in this area) had been quite unloving and not at all Christ-like, so she has really been put off going to church. However, she does still have a faith, so please pray that we get opportunities to talk a bit more around forgiveness and perhaps get her involved in a church again.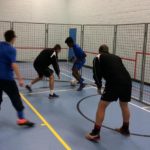 There was even time in the cage for some friendly competition from the PE staff, too.
"The students of Great Yarmouth High School did their school really proud in how they were so respectful and co-operated with us in everything that we did. The teachers were fully on board and joined in at every opportunity which was brilliant – they didn't hesitate to get involved and challenge the kids! I think this week served as a great reminder to us and to all who work with young people, that our stories can have a huge impact with everyone – young people and teachers, anyone can hear the gospel!" Beth. Nomad team leader