What a Beautiful Name it is, what a Powerful Name it is, what a Wonderful Name it is,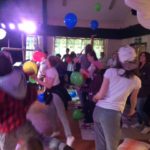 the name of Jesus Christ my King! And that's exactly what so many of the young people from Spring Weekend discovered during our time together – they've come back to Gt Yarmouth, singing that very song, wanting to download it onto their phones, really engaging with the worship of Him through song. We ended the weekend with a praise party and lots of tears as they say goodbye to The Sense, Stance and the other volunteers who were completely brilliant! As you have already had the great news in an update we'll keep this one brief; sessions were all lead beautifully by Andy, Wes, Bekky, Millie, Beth, Jay, Frankie, Aoife, Becks and Joy from The Sense and Stance, with a mix of fun activities, talks, testimonies and more personal small group work. All the young people engaged whole-heartedly this year (unlike previous years) and explored how God is our perfect Creator and Father, how Jesus is God the Son and the most significant person who has ever existed, then session 3 investigated the truth behind Jesus' sacrifice of His own life for everyone in existence and what that means for us on a personal level, not just as a story we hear in RE lessons/church. As the young people were offered the opportunity to take that step; ask for forgiveness and choose to follow Him, 12 of our young people signalled that they had made that life-changing decision! Hallelujah!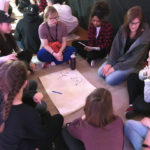 The two sessions the following day were exploring God the Holy Spirit and Life in the Spirit, which we did with the help of a timeline of the events around Jesus death, resurrection and the manifestation of Holy Spirit. Many of the young people could imagine and identify with the emotions these young disciples must've felt; sad, happy, overjoyed, anxious, depressed, excited and perhaps a measure of pressure to continue doing what Jesus had been doing, even to death on a cross? Please praise God with us, for Holy Spirit who was so tangible particularly during the last session of the weekend. At the end of the session, there was the opportunity to pray for each other and my goodness how humbling and beautiful was that? Being prayed for by a 13 year old new Christian! Most of the young people prayed with each other and leaders were able to pray with young people for situations at home that they were dreading going back to. A couple of girls are really struggling with older siblings who are dealing with mental health issues. It was a very emotional time for some of them as they began to see that this isn't "all there is". All this was interspersed with some great activities and the usual Mix Has Talent; an opportunity to discover hidden talents from both leaders and young people.