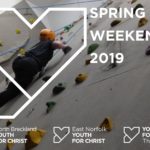 SPRING WEEKEND was fantastic again this year! With The Sense and Stance leading the sessions, the message of the Gospel, God the Father, God the Son and God the Holy Spirit was delivered with the usual professional quality and interactive quizzes, activities and challenges, along with space for the young people to reflect and to pray with the leaders.   We run this 3 day camp with North Breckland Youth for Christ and this year both centres had 13 young people attending which gave a good mixture of talents, quirks and relationship opportunities. The groups were younger overall than the groups we've taken in recent years so it was very much back to basics with the sessions but many of them had a lot of questions as th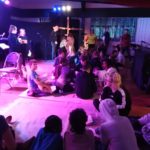 is was the first time they'd heard anything about the life-changing God who lived on earth 2000 years ago but still lives today! It's a real challenge to pitch the sessions when there are some "churched" young people and others who have never encountered Christianity. Two of the Year 8 girls we took started the Saturday morning with a "falling out". Mel* was in tears as her best friend Imogen* wouldn't have anything to do with her and didn't want to talk or "make-up" and Mel didn't even know what she'd done wrong. Ali tried everything she knew, to try to get these girls speaking again as it was also affecting the atmosphere amongst the other girls. Imogen wasn't having any of it though – she wouldn't talk about what was wrong and wasn't interested in being friends again with Mel. By the time the afternoon session started Imogen still had a face like thunder and Mel was still very upset, so as the girls sat listening in the session Ali and Paul (Director of North Breckland Youth for Christ) sat at the side of the room praying continually for them, that God would soften their hearts and show them His love and patience. Within an hour they had their heads together and were laughing and chatting like nothing was wrong and even started planning their act for the Talent Show later that night! Praise God for His grace and for the beautiful way He helps us relate to Him and each other.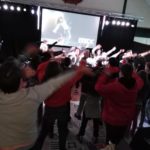 At the Youth Café, 4 days later the two girls were talking about the weekend and Ali had the chance to explain how this "Holy Spirit thing" works; that it's not necessarily, or always, obvious, dramatic or weird, but that He can gently and quietly change our hearts and the atmosphere around us. They were both blown away by the fact that He softened their hearts so they could be in a relationship with Him and each other and that Ali and Paul were praying about them, when they didn't even know or "feel anything". Over the weekend 6 of the young people from Gt Yarmouth became Christians and 2 asked for prayer for Holy Spirit to help them live life to the full with Him. Thank God! And thank God for the amazing volunteers we had with us again this year: Michelle and Louise staying all weekend with Nigel and Matt providing transport to get the young people there. Thank you also to those of you who gave money towards the fees for the young people. Sometimes the families genuinely can't afford to send the money but for some parents, who don't know Jesus, it's just not something that they prioritise so they won't pay the full amount. This is why your support is so vital, thank you.