The Sense (formerly known as Taste) 2016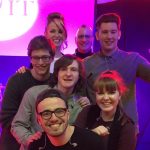 We had another great week in the high school this year as The Sense took assemblies and lessons with the school pupils.
Here follows some live updates:
Wow! This morning Will shared his testimony of forgiving bullies to a group of year 9s; this afternoon an excited year 10 group with lots of energy listened in complete silence as Reece shared his story of life with and without Jesus through the tough stuff of bereavement, drink and drugs.
Another great day in Gt Yarmouth High School. After boundless energy in the Year 7 classes some really positive conversations with the students in Room 6 and the dinner hall. Rachel spent time chatting to a girl who was challenged by the lessons on forgiveness. She really wants to forgive her friend and knows its right but is finding it too difficult-it's easier to just not forgive her. Please pray for her, that God will give her the strength to mend this relationship. Also the boys who were talking to Reece and Andrew about the band's previous visits to the school and how they've appreciated what the lessons and activities bring to the school.
We were thrilled to see a really good number here tonight right across the age-groups with 143 tickets sold and what felt like a pretty full gig we loved the opportunity to sing and perform to these young people. Towards the end we knew we wanted to share the gospel and help them to understand what it means to be a Christian. So we decided to do an interview sitting on the edge of the stage, across the team explaining why we believe what we believe and how to enter into a friendship with God.
It had been a fairly rowdy night and trying to calm them down at this point was going to be difficult with every possible technique used to the extreme. This wasn't a school assembly and so we never expect or demand absolute silence but there normally comes a moment when they suddenly begin to listen and it's possible to share the gospel on a deeper level. We weren't really sure whether it would be possible tonight.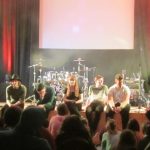 However Andy encouraged them all to sit on the floor and as each band member shared something they became more quiet but there was one small group that were just being difficult and more disruptive than the rest. We'd tried every tactic but sadly couldn't persuade them to stay and listen. In the end they left and as they did Josh had the inspired idea to speak without the microphone…..a massive risk but it really paid off. He spoke quietly and gently and within seconds they were absolutely silent, listening intently to try to hear what he was saying.It worked a treat and Josh was able to explain how they could enter into a friendship with Jesus.
While they were quiet, Andy took the moment to pray and offered a Check It Out leaflet to explain more about what it means to become a Christian, pointing them to Ali to answer any further questions. It was a brilliant moment and we could al; really sense the Holy Spirit at work! 1 person made a decision to follow Jesus while a number of others took the Check It Out flyers.