The Sense with Stance 2017
The week we had in Gt Yarmouth High School with The Sense and Stance was so exciting as we saw the students opening up more than usual this year; it seems that every year, as our relationships with the staff and students grow, they are trusting us more with their questions and confusions. There were, again, a lot of questions about the Church's treatment of people with varying sexual preferences and lots of young people are still subjected to judgemental and condemnatory language from different sources (not just from Christians or religious bodies). One 11-year-old girl got more and more heated and upset as she spoke of her parents' reaction to her professing a sexuality that wasn't in line with their ideals. As I gently explained that our identity and who we are is so much more than our sexual preferences; that there is a God who created each of us as individuals and with a specific purpose of living life to the full and how that frees us from any labels or judgements from others, my heart ached for her hurt and angst at such a young age. Please continue to uphold these youngsters, that He will protect them from our society's preoccupation wit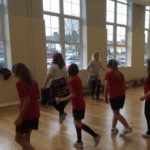 h sex and sexuality.
This is the first year that we have had both teams in the school together, so The Sense were taking lessons in the hall at the back of the school whilst Stance were teaching dance routines in the gym at the front of the school. This was great fun and most of the pupils really entered into the lessons with lots of trepidation but great enthusiasm to try something new, even if the thought of learning a "street dance" was pretty daunting. Probably the fact that Ali was also having a go and looking a lot less than "cool" inspired them that at least they wouldn't be the worst in the class! Even one of the male PE teachers had a very brief attempt which is indicative of the great relationships some of the teachers have with the pupils here. At the end of the lesson there is always time put aside to answer questions the pupils have and Aoife, Becks, CJ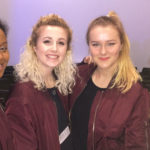 and Rachel were able to share why they do what they do and what their faith in God means to them, in response to some of the questions posed this year. Ali was again able to share with the class of 31 boys aged between 14 and 15, at the request of the teacher and in response to the sexuality question, how much God loves us, how He wants us in His family so much He sent His Son to die for us and how there is no condemnation for those who believe and trust in Him.
During the lunchtimes, the students are allowed into the hall to use the band's equipment and chat with the team.  They're also encouraged to get up on stage and sing their hearts out!
Thank you so much to all of you who are an integral part of these weeks: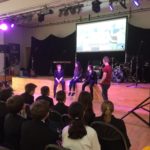 those who host and feed the team: Pete & Claire, Pete & Louise, Ruth & Dan, Barrie & Alison, Jane & Dave, Sandra & Phil, Erny & Sue and of course every one of you who faithfully prays for us all week.
The new senior leadership team were very impressed by the energy, passion and professionalism with which the teams delivered all they were asked, including a transition assembly for 80 Year 6 pupils from the local primary "feeder" schools, giving them a taste of what's to come if they attend Gt Yarmouth High School in September.