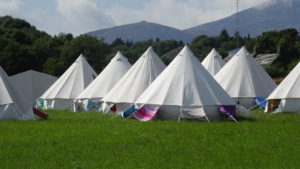 We're really excited about being able to attend this camp on the North Norfolk coast. It's brilliantly run by the WEC (World Evangelism for Christ) organisation. For more information on WEC please click here. They are a non-profit-making organisation, whose leaders have given their time voluntarily to provide a holiday opportunity for children since the1950s, with positive help in developing Christian character.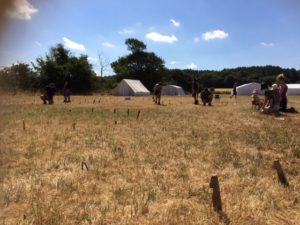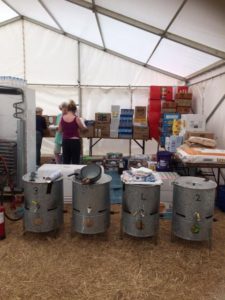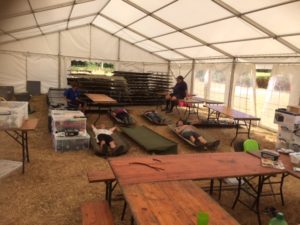 The week was made up of informal prayers, talks and a missions focus as well as fun activities, for approximately 90 x 9-13 year olds (Warriors) and about 80 x 13-17 year olds (Teens) looking for an exciting and meaningful way to start their summer. The two camp sites were separated by a narrow country road, so we were very close and with plenty of choice and a laid-back style WEC camps offer a unique camping experience with opportunities to discuss and express opinions, learn more about God and about how to live for Him, plus the choice of a wide range of activities, trips and games.
We had an absolute blast with the young people from Great Yarmouth and were so proud of them! They were the only ones there without the experience of a Christian family/church environment but they got stuck into everything, raising their hands in worship, finding the passages in the Bibles we gave them (thank you Christchurch, Great Yarmouth, for your donation of Bibles), reading those passages out loud in their small groups, even though they had no idea what "disciple", "church plant" "Old/New Testament" etc meant. It was such a privilege to see the next steps they're taking in their individual journeys with Jesus
As well as sessions of teaching on how to be a disciple, there were lots of activities including the much-raved-about "Walk-a-mime". We had no clue how this could be effective but it certainly got everyone involved in their small groups, choosing a Bible story and acting it out (throughout the village) to all the other small groups who, in turn, enacted theirs! Confused? Yes we were too, but it was brilliant – even the most shy, most stage-frightened young people entered into it. You  probably can't tell from the photos but we have the story of David & Goliath in one and Samson in the other photo! So proud of our kids for getting stuck in.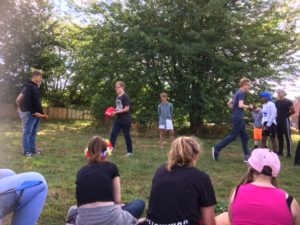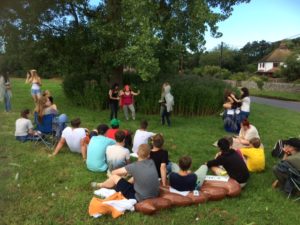 One of the Teens' families was facing the possibility of returning to a new address from camp as their landlord is selling their current home. As you can imagine this was quite a worrying time for her and she was concerned about her parents having to deal with this, so we prayed together and she felt much more peaceful. That afternoon, as she sat outside her tent reading her Bible, Ali asked what she was reading. She said "I just opened it at Psalm 25 and it is SO right for me and what I'm feeling right now!" so we talked about how God "speaks" to us through the Bible.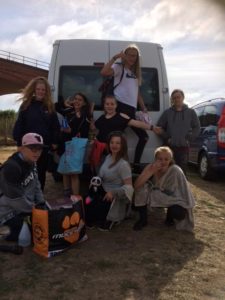 That evening she phoned her mum and told her that she was becoming a Christian and was going to follow God and what He says! She then re-joined the evening session and asked Ali to pray with her at the end. As they walked to the marquee for hot chocolate after the session, the girl looked up at the sky and said "This is why I hate artificial light – you miss so much of these beautiful stars and stuff!" Ali said "Yes, me too, and now you know the Creator behind it all!" to which she replied "I KNOW! And I don't need science to believe in now, I have Jesus" This from a girl who, 18 months ago said she couldn't believe in God as she believes in science and they don't mix. Hallelujah for Holy Spirit's work in her heart over the last few years, having healed her of headaches 2 years ago.
One of the lads, has been coming to the Youth Café for 4 years and we have a great relationship with his family and siblings. He's been to Spring Weekends and other events over the years, however he has been struggling with depression for 17 months. One evening at camp, he was really having a difficult time and two of the leaders spent time with him and prayed with him. He calmed down enough to settle down and sleep and the next day Ali had the chance to catch up with him, chatting about life at home and his camp experience. He said "It's been great. My depression was healed last night!" Ali asked how that felt, what was different. He replied "I don't know what happened – Adam prayed for me last night and I had depression, this morning it was gone! That's all I know – I had it and now it's gone. I can smile and laugh! I haven't laughed for about 17 months!" Praise God, our deliverer, for His healing hand and His unquenchable love.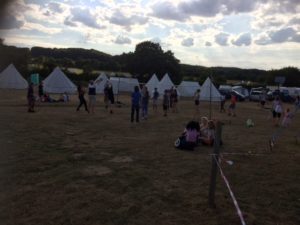 Please continue to pray for these young people – that they will continue to read their Bibles and their notebooks and continue in their walks with Jesus. One Year 11 girl stood up in the last meeting of the week (which was an opportunity for them to tell everyone what God has been saying during the week and how they've been impacted) and said "I came here not believing and not wanting to believe cos I didn't know anything about it but now I want to find out more and see if I want to believe". Pray that this enthusiasm won't fade and that she will actually find out who her Saviour and Lord is.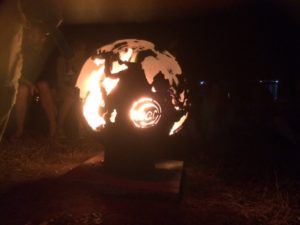 Over on the younger Warrior camp there was drama from Day 1! After only 2 hours of being on camp, one of the young lads stood up to enter into the Wide Game they were about to play and immediately fell to the floor with a shriek of agony. His knee had dislocated as he'd turned and he ended up having to go home after an extremely painful visit to A&E to have the knee put back in place! Although he has now had the splint off, he is having to have hospital appointments to address this weakness so please pray for God's healing hand on him as he tries to build his confidence again. Totally unhindered by this, the girls on Warriors had a great time and got stuck in to the games and activities, making some new friendships and enjoying the sessions on their identity in Christ. Please pray for these girls as there are very few young girls of their age in church in Great Yarmouth and they would love to grow in their faith with others.
Here's what one Warrior had to say Confessions of a Camping Convert