SADLY WE HAVE HAD TO END PROVISION OF THIS FANTASTIC OPPORTUNITY AS THERE WEREN'T ENOUGH VOLUNTEERS TO CONTINUE
So…….what do we get up to at ETP?
Well it is what it says; we eat, we talk and we pray; on a Tuesday evening at Park Baptist Church from 16.30- 18.30. We have been partnering for a year with Park Baptist Church in this venture for young people in school years 5 to 9.
We have cooked a range of different dishes such as pasta, curry and chicken pie.   The young people learn how to cook the food and follow recipes trying new and healthy meals. It has been a good way to engage with the young peop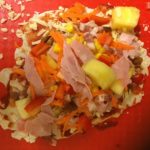 le as well as enabling us to connect with the older primary school children, thus bridging the gap between primary and high schools. Within the sessions they have been asking and exploring more about prayer and what goes on within the church.  The young people enjoy the cooking but are not too sure about when it comes to the washing up, however, they all chip in and work as a team to get the jobs done. We have "specials" where we play games and work on other life skills like ironing; one week we took part in the prayer space Park Baptist Church were hosting. One of the church family comes and cooks for us on those dates.
One of the focuses of the sessions is to pray for each other and thank the Lord for his goodness and what he has done over the previous week. Whilst we sit together and eat the food we've cooked, in a family atmosphere the young people have learnt how to pray and to talk to our heavenly Father.
We would value your prayers for the young people and for God's provision for finances for this group and others to join us. The group we have been working with is a very small group but we hope it will grow in the future.
If you know anyone that would like to come along, please get in contact with us