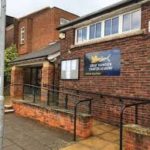 2017-2019
We are privileged to be allowed to visit Gt Yarmouth Charter Academy in a pastoral capacity three days a week and enjoy chatting with the pupils, giving them the opportunity to talk about their day over lunch, getting alongside those who are on their own or who are struggling to find friends in the early days. Now in our fifth year we are enjoying building relationships with many of the staff as well as the pupils, helping out with decorations for the Music Departments' annual concerts as well as pitching in wherever possible if help is needed to set out chairs or clear up after events.
2016: The boys who regularly come to Room 6 have planned an assembly based around the story of the Prodigal Son and we are just waiting for a date to present it to the Year 8s in assembly.
April 2016: We have been encouraged by the school allowing and enabling us to become more involved in helping the students. On Tuesdays and Thursdays Alison is now mentoring eight Year 8 students to help them put strategies in place to cope with the challenges of living in community with others, whether at school, home or in their friendship groups.
At the end of 2015 we had the privilege of organising a Sex and Relationships day for all the year 10 students. We brought the Christian organisation Romance Academy into the school to talk to the pupils about pornography which they really appreciated; as one teenager expressed "At last – no-one talks about this". The Terrence Higgins Trust delivered a lesson on contraception and PC Claire Palmer gave a lesson on violence and abuse in relationships. Unfortunately one of the agencies had to pull out due to illness but the head of PSHE was very grateful for the help we gave in delivering this day for the school; "I did not get a chance yesterday to thank you for all your hard work in organising the day. You are a real benefit to the school and I (we) appreciate your continued support and help with the students. The day was a success all round – lots of positive feedback from the Year 10s and Year 10 team today".