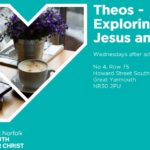 Welcome to Theos, one of our discipleship group. Held on Wednesdays after school this is a drop in session giving the young people the freedom and space to explore all their questions about Jesus and what they learn at Spring Weekend and summer camps.
Obviously there is hot chocolate provided but also fruit to keep them going til tea time!
One week we had two of the Year 11s who went to WEC camp and we discussed creation – where it all started. The following week we had two Year 9s who have been to Spring Weekend and one of their sisters who is now in Year 7, so we looked at the Fall and they drew pictures of the things that stood out to them in the passage. As you can imagine it's difficult to plan a "series" or a journey through the Bible as the young people are so sporadic – we may plan a session for the ones who came the previous week, only to have none of them turn up, but we "press on" and trust that we are chatting about things each week's group needs to hear, after all, Holy Spirit knows exactly what we're preparing and exactly who is going to turn up! It's interesting that the older ones don't seem to have many questions about God or Christianity, yet the younger ones do: "How does anyone know what Jesus looked like – there weren't any cameras then?" Kevin* Y9
"Why do some Christians think suicide is a sin? Do you believe that?" Kevin* Year 9
"Why did Jesus die for us?" Kevin's* Year 7 sister and one of the Year 11 girls at WEC+
"I don't think I've ever been to church" Lennon* Year 9.
Please thank God for these opportunities to share of His awesome and indescribable love for every one of us and for His provision of the office – it's such a great location, some of the Year 7s walked home from school, past the office and we were able to welcome them in so they know where we are. One Year 7 asked if she could do her music homework on the keyboard we have. That keyboard was given to us over a decade ago and hasn't been used since (thank God for the person who donated it and to Christchurch for giving us room to store it) but it's now available in the office for the young people to use – who knows – maybe she will be the next generation worship leader?! Let's pray…….