Hallowe'en Prayer Walk 2015
As we watch all the paraphernalia accumulating in the shops to mark the celebration of all that's dark and evil, we are looking forward to celebrating Jesus being the Light of the World as we prayer walk Gt Yarmouth town centre on Hallowe'en, next Saturday, 31st October.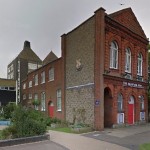 We will be starting at 7.30pm at the Library/Salvation Army building. Please come and join us as we stand in the power of Jesus' name, against everything this annual event represents. If you would rather pray indoors, Park Baptist Church will be open for the hour that we are walking.
Please let us know if you are coming along so we can wait for everyone to assemble before we set out – 07733 143660 or office@enyfc.co.uk